Play Free HTML5 Games Online
HTML5 games are amazing web games and the user interactivity is richer than the flash games. While playing HTML games you will entertain just as you are playing iPhone game or an Android game. This is a result of the rich and powerful features of HTML5 programming and markup language. HTML5 empowers web developers with new APIs and new features like HTML embedded video or audio, drawing on canvas using Javascript, or animation with SVG.
Let's put HTML5 and HTML5 programming a side, and let's look at the new HTML5 games. Here is a short list of HTML5 games you and your children will love to play. Since all these HTML5 games are web based and free to play, you can also consider this list as a list of free online educational games for kids.
Cut The Rope
Development of Cut The Rope HTML5 game is supported by Microsoft. As you can understand from the official domain name extension .ie of the www.cuttherope.ie web site, Microsoft supported Cut The Rope as an Internet Explorer supported HTML5 game. Of course, players can play this marvellous game on any HTML5 supported web browser like Firefox, Safari, Opera, Google Chrome, Maxthon, etc
Cut The Rope is a puzzle game where players try to feed a pretty monster with a candy at each level. If you are looking for a free game to let your kids play on the web, I strongly advice Cut The Rope HTML5 game. It is one of best entertaining and educational games for kids.
Unfortunately this game is no more available via the link I share above.
But of course by using the web.archive.org it is still possible to play Cut the Rope game online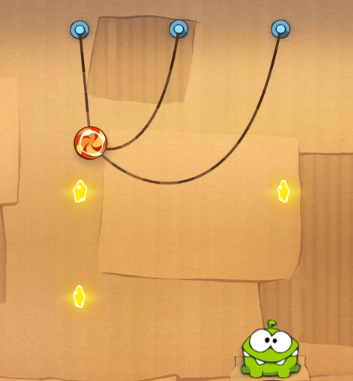 Tetris
Tetris is one of the oldest and well-known games of computer ages. Now Tetris lovers can play Tetris as an HTML5 game at https://aduros.com/block-dream/.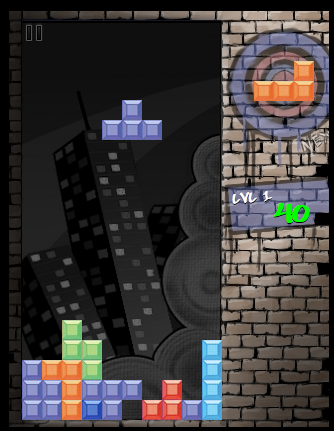 Lights Out HTML5 Game
Lights Out game is a puzzle game played on 5x5 board where squares on the board are in one of two colors representing a light off and on position. The aim of the Lights Out game is to switch all lights on or switch all them off. Lights Out once was played a lot and I strongly suggest parents to encourage their children play Lights Out game. You can play online Lights Out educational game for kids especially by following the URL.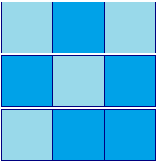 Outrun Arcade Game
Outrun is one of the earliest games loved much in computer games history. I remember me and my sister playing this racing game for hours. With the improvements in HTML5 it is easy to build arcade games in HTML5 for web programmers. And this HTML5 game is build on HTML5 canvas element. The author also provides detailed information on how he built this HTML5 game. Players can play Outrun online using the arrow keys to drive on the highway in heavy traffic and to make speed :)
Press to play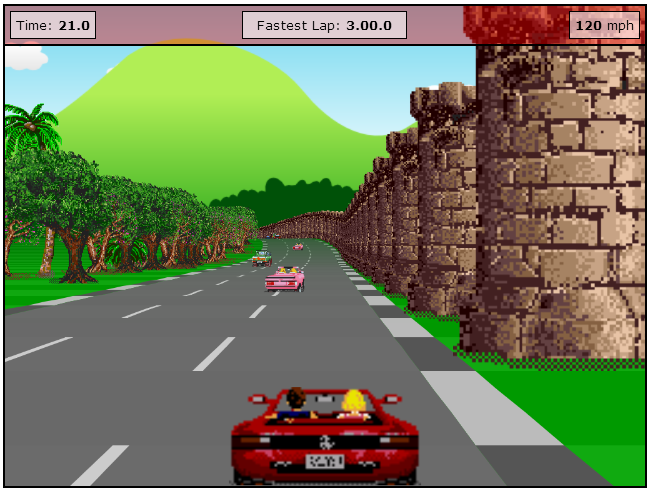 Super Mario Kart Online
This is a simple racing game created using Javascript. Player can simply use arrow keys to drive and race with rivals.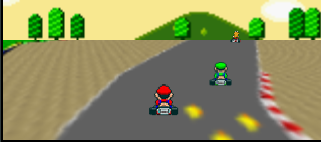 Pacman
Pacman is a classic video game and loved by players since years. Go and play Pacman online at http://www.google.com/pacman/

Asteroids
http://www.kevs3d.co.uk/dev/asteroids/
Defender
http://www.scale18.com/canvas.html