How to Play Minesweeper Game - Minesweeper Tips 1
It is very easy to play Minesweeper game. Because the rules are very easy.
The game player clicks on a Minesweeper tile. If that tile is not holding a mine in it, a number will be displayed showing how many mines are around that tile.
In order to win the game, the player must open all tiles that are not mines.

In this short article, while showing how to play Minesweeper to new players, I will demonstrate a few Windows Minesweeper tips which will help you to build a winning Minesweeper strategy.
Windows Minesweeper Tips
The first one among many Minesweeper tips is Minesweeper 1 Tile Rule or Single Mine Play Tip in Windows Minesweeper game.
Actually this is a name I gave to this Minesweeper strategy.

If you read 1 on a tile, this means there is only a single mine around that tile.
Let's concantrate on the tile which is marked with a thin red circle around and has the number 1 written on it.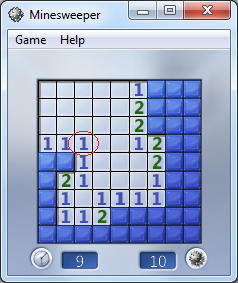 This means there is only one mine around the tile. And as you see since it is surrounded with empty tiles and there is only one single tile not opened, we can easily conclude that that neighbor tile which is not yet opened is a mine.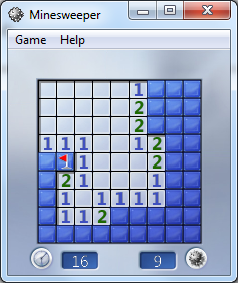 This kind of mines are the easiest ones to find. So in order to play Minesweeper well and get high scores in Minesweeper you should be fast to find these mines and fast to mark with a red Minesweeper flag to prevent it to bomb accidentally.

This is one of the basic Windows Minesweeper game tips.
After you mark the mine with red flag, you should now concantrate on the square which is also marked with 1 and is circled with a red line in the below screenshot.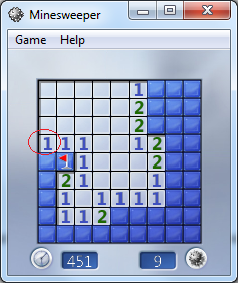 Don't forget, you find one mine which is also a neighbor of the target tile. That circled tile has only one mine around itself. And we have already found it. So any other tile is safe to open.

So you can click on the Minesweeper tile with marked with red circle without any doubt.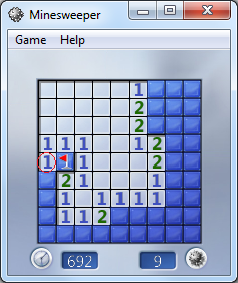 Did you recognize the option which is coming to your feet? We have opened the tile. And it has also the value 1, meaning that there is only one mine around it. Please note, that mine has already been found and marked with Minesweeper red flag. You can continue to open unopenned tiles around the "1" tile except the red flag tile.

If you just play with tiles which have only one mine around them, you will end up with the following view at the end.

Very nice! With only one tip, I call it Single Mine Play tip in Windows Minesweeper game, we have identified 5 mines. This is the half of all mines in this difficulty of the game.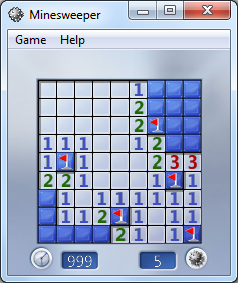 Now, Windows Minesweeper game players can continue with next Minesweeper tips, Minesweeper 2 Tiles rule.