Angry Birds Star Wars Game on Windows 8
Angry Birds Star Wars game is released for Angry Birds game loves to play on Windows 8 as a game app by Rovio Entertainment. This newest Angry Birds game stick to the first Star Wars trilogy movie "A New Hope" where rebels are against the Empire's hand Darth Vader and his storm-troopers with one difference. In this new Star Wars Angry Birds Windows 8 game, you have the rebel birds fighting against the Empire's pigtroopers :)
Of course in the game story there is the Pig Star named after the Death Star in original Star Wars movies.
A latest release for Angry Birds Star Wars enables game players to choose the Dark Side, sorry the Pork Side too :)
Here is the game trailer for new Angry Birds Star Wars II: Join the Pork Side release
Players can download and play free the trial of Angry Birds Star Wars game app on their Windows 8 tablet or PC. Or they can buy Angry Birds Star Wars edition for 4.99 $
If you are a fan of Star Wars movies, you will get enjoying this Windows 8 Angry Birds starting from start with different versions of well known Star Wars musics.
The free Angry Birds Star Wars game provides games on Tatooine, Pig Star (Death Star), Hoth, Path of the Jedi and as bonus unlocking the C3PO and R2D2.
May the birds be with you!
In this newest Angry Birds game there are more than 80 levels. There are enemies like Imperial pigs, sand people, and the most frightening enemy the users of force from the dark side. In Star Wars game edition of Angry Birds, players can increase the skills of their birds to upper levels by playing more and more which is similar to ones in most online multiplayer games
Star Wars Angry Birds Game on Windows Store
Angry Birds Star Wars edition is an arcade game with about 40 MB download size where Windows 8 users can install it from Windows Store. You can also use http://www.angrybirds.com/starwars/ to download Angry Birds Star Wars game to your Windows 8 tablet PC, or Windows Phone 8 smartphone, or others like Android, iPhone and iPad devices too.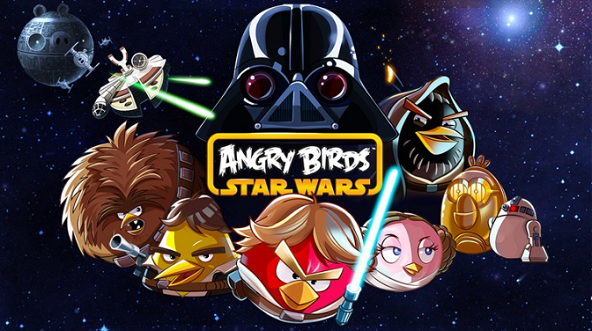 Install Star Wars Angry Birds game on Windows 8 by downloading from Windows Store