Evony Game Tips and Tricks: How to Collect Evony Speedups
In this Evony The King's Return game tips and tricks guide, I want to share a few hints for Evony game players to collect speedups efficiently as many as possible in the shortest time period. If you love playing Evony game, you already know that gamers start constructing their buildings which are free till level 3 but requires some resources and time to complete the construction after that level. This time period which takes until the construction is completed increases with the level of the building. And not only for buildings in and around your main city and subordinate cities, but also for researching activities in your academy, for training military units, healing your wounded troops in hospital and crafting equipments in forge; all these activities take time. And you can easily guess this wait time is the most boring time for the Evony gamers who are especially impatient
Of course, if you have enough speedups then you can complete your time taking task immediately or reduce the wait time by the amount you use to speed up that task.
In Evony game, there is a generic speedup type where you can use the time speed up in any activity. In addition to general speedup category, there are certain speedups types that you can use only on a single certain activity like construction, healing, crafting, researching, training, etc.
In this Evony game tips and tricks guide, I want to share a few hints that might increase the amount of speedups in your Evony game to increase the gaming experience and fun.
Claim Speedup Box
Here is the first tip, get used to wander on the map.
You will see resources on some certain places like below. That is a rich resource area where you can collect based on your requirements.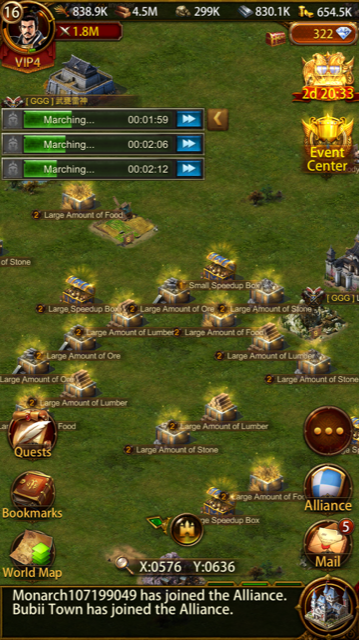 You can focus on at first gathering or claiming the large boxes.
At first, I collected all of these resources; Speedup, Food, Lumber, Ore, and Stone
But later, I realized that there is a limitation of the number of resources that you can claim.
It is better to gather only the resources you will require. And that is the Evony speedups in most cases.
Here is the second tip, claim Large Speedup Box or Small Speedup Box until your quota is full.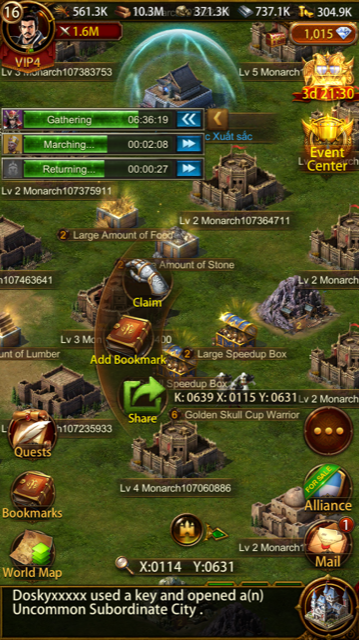 While claiming a speedup box, the troop is faster than a marching army on Evony game. And if the large and small speedup boxes are around your city, then you can sequentially claim the following resources one after an other without losing time. Don't forget, other Evony game players are also searching for the same resources on the map.
Third tip for collecting Evony speedups rising from the first and second tip:
Search for Speedup Boxes all around the map.
It is not important how far they are. Your scouts are faster and can claim those resources.
When you claim a speedup box on Evony game screen, the focus returns on the scout which start rallies beginning from your home city. If there are other speedup boxes in the same area, it is important to bookmark those speedup boxes or at least the area. This enables you to send the second troop to claim the remaning one as quick as possible.
Fourth tip for Evony speedups: Bookmark Speed Up Boxes or the area in general
Of course, by bookmarking large and small speedup boxes your bookmarks screen will be a mass soon. You have to clean them regularly to keep them up to date and the list as short as possible.
Fifth tip: Use Bookmarks Efficiently and Wisely
Even though you have claimed the resources or there is no resources left behind, you an keep the bookmark in your list if that is a place on the map where there are cities with high levels and capable of killing monsters that will leave those speedup boxes behind.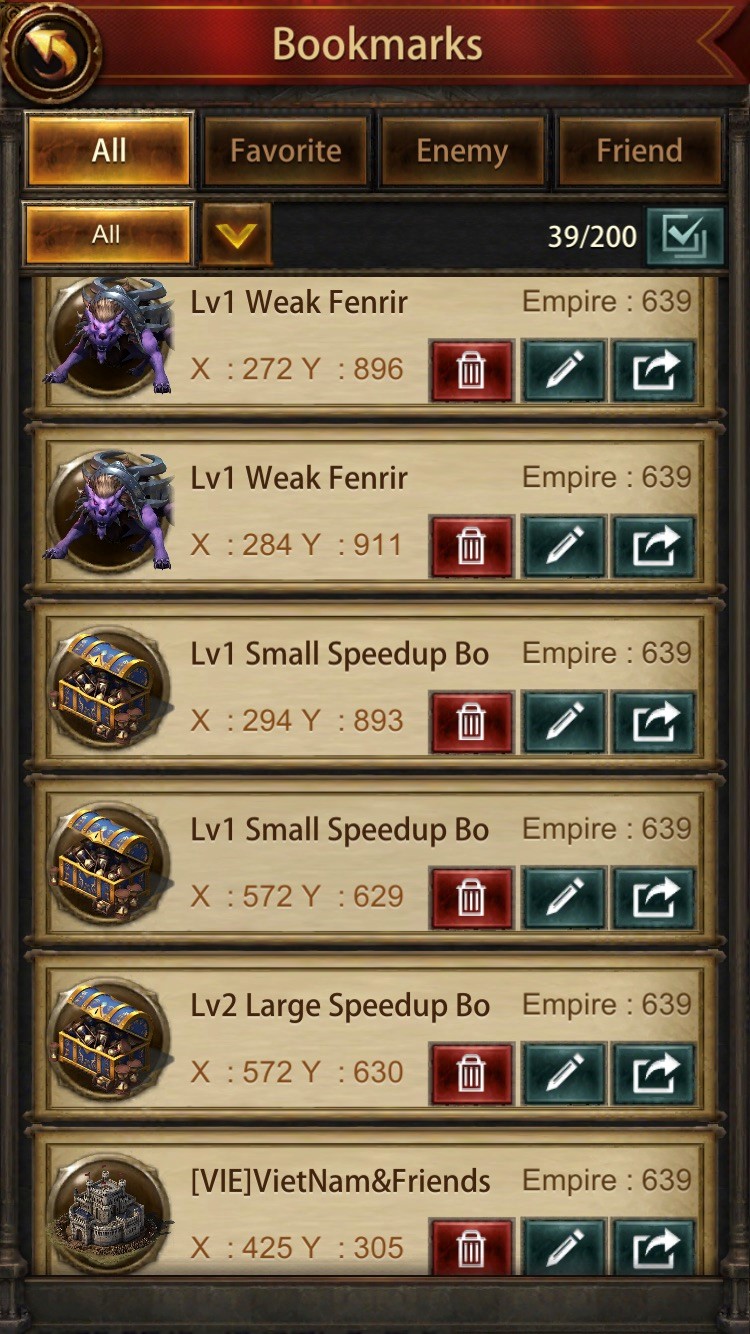 Don't forget, Evony players gain special items like Blunt Fenrir's Fang which enables pop-up of a Weak Fenrir so Evony players can easily kill the monster leaving 10 resource objects to collect including speedup boxes.
Tip six: Track Fenrirs on the Map
These Fenrirs will be killed at some time and leave valuable resources including large and small speedups their behind. So bookmark them and visit them regularly to see if they are turned into collectible resources or not.
On the map you will see other players routes, too.
They are either attacking some others or some monsters on the map or scouting to the resource boxes including speedups to claim them.
You can easily distinguish marching routes with slowly moving dashed and scouts with high speed movements. Follow those routes, you will find a valuable resource or a group of resources including speedups, too. You can at least claim a few of them and benefit from others actions.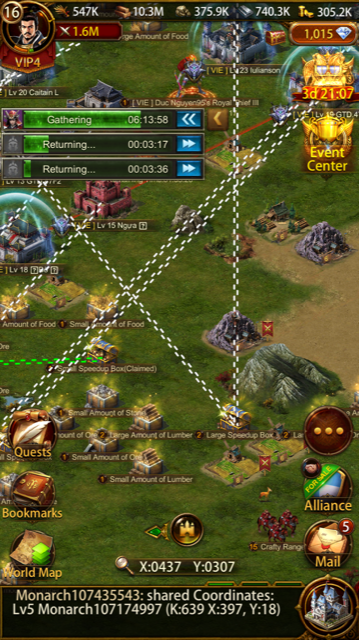 This is the seventh tip: Follow Routes of Other Players on the Game Map
Only by keeping an eye on the Evony game map and claiming large speedup boxes or small speedups, you can easily obtain about 100 hours of speed up period which will increase your power by completing your tasks faster.