Web DynPro Tutorial - Display Spool Requests using Web DynPro Table
This Web DynPro tutorial is designed to share ABAP codes that get the list of spool requests of a SAP user and display spool requests of the SAP user on a table element in a SAP Web Dynpro application.
In order to make this SAP Web Dynpro tutorial more useful for ABAP developers, I'ld like to publish it divided in followings parts titled as :
How to create Web Dynpro Application (Web Dynpro Component)
How to display table data on a Web Dynpro Component
How to test Web Dynpro ABAP Component by creating a Web Dynpro Application

In the first part of this Web Dynpro ABAP tutorial, developers will see the steps to create Web Dynpro application (Web Dynpro component) using SE80 ABAP Workbench editor.
The second part of the tutorial will demonstrate how to select data from ABAP transparent tables (TSP01 SAP table), store data into a Web Dynpro context node and display it as a Web Dynpro Table element.
ABAP developers will see how to create a Web Dynpro Application to test Web Dynpro development and publish it as a web application in the last section of the ABAP tutorial.
Please note that the first part and the last part of this Web Dynpro tutorial covers the steps that are basic in every Web Dynpro software development. So it is enough once to work on those sections to get the idea of how to create a Web Dynpro component and how to create a Web Dynpro application for browsing the Web Dynpro software and testing it on a web browser. The main part of a Web Dynpro software development is where you fetch data from SAP tables, store data as context nodes or context attributes and bind data elements on the layout with context data.
At the end of this Web Dynpro tutorial, ABAP developers will be able to display a SAP information which is related with spool requests of a user on a table like shown in below screenshot.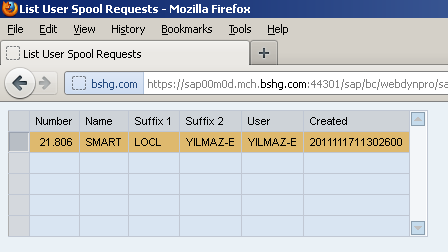 The above picture from the test web browser is showing the output displayed by the sample Web Dynpro component developed in this Web Dynpro tutorial. Let's now start by creating Web Dynpro application