How to Install SAP Free Trial Edition on Your Computer
In this guide I want to share information about how to install SAP free trial SAP Netweaver Application Server ABAP Developer Edition on your development computers using openSUSE Linux distribution on Oracle VirtualBox virtual machine. Trial SAP edition can be installed for free by following steps shared in this guide. The SAP installation process took nearly 5-6 hours of period on my laptop.
Please let me inform you, I have followed the step by step guide published by Julie Plummer.
But I also want to add a few notes related with issues that I had as problem on my SAP setup experience.
Thanks to Kutay Bektaş for sharing his experience with free SAP installation on local computer with me.
Download Free SAP Netweaver Application Server Setup Files
First of all, have a short look at the guide I referred above.
Although it is not in the order given in that document, I started downloading the SAP setup files.
Go to https://tools.hana.ondemand.com/#abap
There is a section titled "SAP NetWeaver AS ABAP Developer Edition"
Select the latest version for free download.
During the preparation of this guide, there was two free versions available: 7.50 SP02 and 7.51 SP02
Click on link you prefer to download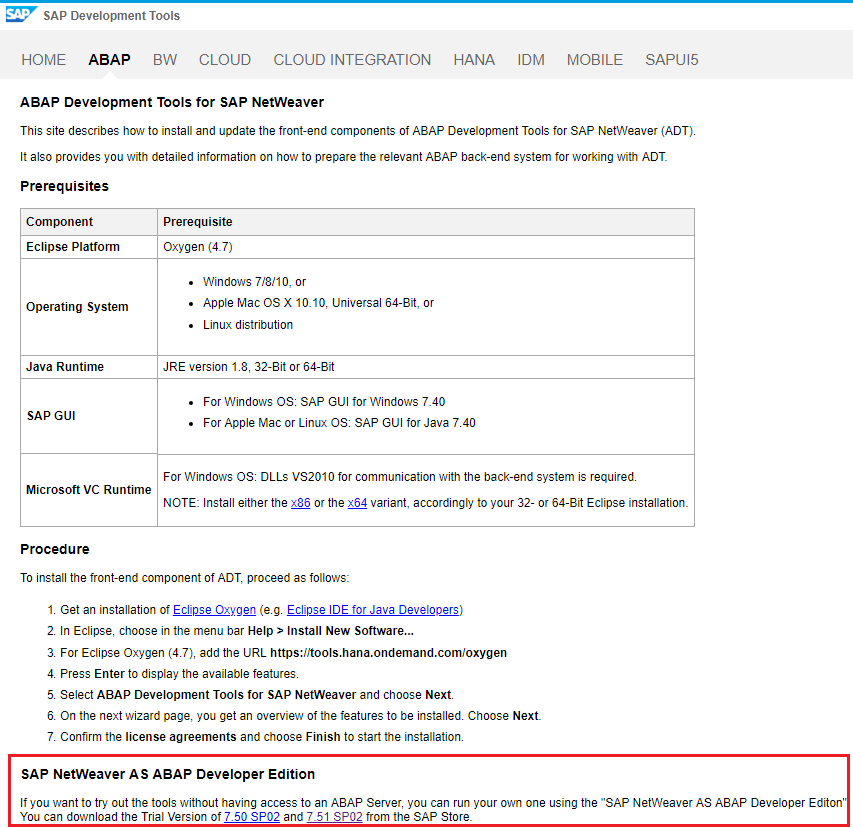 You will be directed to related SAP Store download page for trial edition of SAP Netweaver AS ABAP Developer Edition free to install for SAP developers.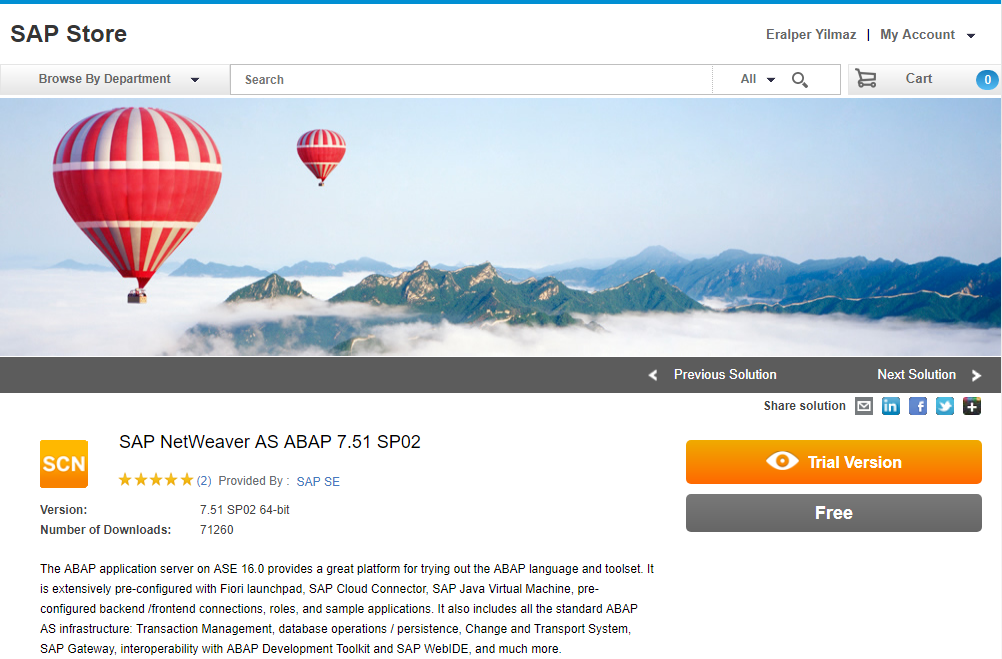 Click on Trial Version button to continue for trial or free download of SAP Netweaver Application Server ABAP Developer Edition.
You will be requested for a short easy to fill registration form.
Then you will be sent an email with download link included.

When I lauch the given URL from SAP Store to download SAP, I see a list of partial download files as follows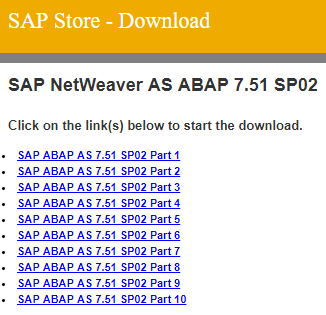 These 10 compressed files has a total setup file size of 13.2 GB for SAP NetWeaver AS ABAP 7.51 SP02
Please note that we will not try to install these binaries. This will be done only after Virtual PC software Oracle VirtualBox is installed and a new virtual PC is setup using openSUSE linux as the operating system.
Download and Install SAP GUI on Local Computer
After completing installation of SAP on openSUSE VirtualBox, you will want to logon and connect to the recently installed SAP system.
In this case, if you have not installed yet you require to install local SAP GUI on your host machine, on your development computer, not on the VirtualBox openSUSE OS.
So while we are still in the preparation phase, you can download local SAP GUI setup files at this step too.
Download Oracle VirtualBox Free Virtualization Software for SAP Netweaver
ABAP developers who want to install SAP NetWeaver Application Server will require a virtualization software.
They can download the latest released version of Oracle VirtualBox from VirtualBox software download portal for your operating system.
After download completed, you can immediately start to install VirtualBox. Installation will be completed within minutes.
Before you continue to next step, take it as a warning. If your computer's BIOS settings are not configured for Virtualization Technology, you will not be able to list 64-bit Linux operating systems including 64-bit openSUSE during creating of a new virtual PC.
I had this case in during my SAP installation experience. All listed operating system options were 32 bit. If you have the same situation, do not continue with a 32-bit solution.
You can get following installation error: "VT-x is disabled in the BIOS for all CPU modes (VERR_VMX_MSR_ALL_VMX_DISABLED).
Check your BIOS settings as in referred document.
Maybe you might want to check it earlier or when you face it (of course if these options are not set) during Virtual PC creation step.
Following web fixedbyvonnie resource could guide you for solution of the Virtualization Technology and VT-d Feature settings.
Download openSUSE 64-bit Linux Software
Additionally, ABAP developers will require a Linux distribution as operating system that our free SAP Netweaver AS Developer Edition will run on it.
Before starting SAP installation, download openSUSE Leap 42.3 in your local machine (64 bit, released version) from openSUSE
In a case where you experience problems, you can refer to troubleshooting reference for openSUSE on VirtualBox at here.
You can also find a copy of this guide here too for backing up the resource.
Install Free SAP Netweaver Application Server Setup
After all downloads are completed, ABAP professionals who want to run free SAP system on their development computers can follow the instructions given at Blogs.SAP.com

SAP Users and Passwords
After free SAP Netweaver installation is completed, you will want to logon to SAP system.
You can find the SAP users and passwords at this setup document.
Again to backup the resource, I copied the SAP system client 01 users and their corresponding passwords below.
"User name" "Password" "Description"
DDIC Appl1ance Data Dictionary User
SAP* Appl1ance SAP Administrator
DEVELOPER Appl1ance Developer User
BWDEVELOPER Appl1ance Developer User
Restarting SAP Services
Of course right after the free SAP system setup, all services are in operational mode.
But after you close virtual machine or shut down openSUSE on VirtualBox and then restart it, the SAP system services should have to be restarted.
To restart SAP service, please refer to the last section "Starting up NetWeaver AS ABAP on running VM" given in document SAP S/4HANA System Setup
Execute "su -l npladm"
You will be requested for the NetWeaver Application Server ABAP system password (Admin user)
Then execute "startsap ALL" to start ABAP server on your virtual machine.