Delete Standard Text using SE78 SAP Transaction
To delete standard text created by SO10 transaction code, ABAP developers can also use SE78 tcode too. Although using SE78 Administration of Form Graphics for standard text maintenance is an obsolete method, I experience many developers still prefer to use this way.
I still suggest SAP developers to use SO10 transaction code to delete standard text. But in this tutorial, I'll be showing how they can use the SAP SE78 tcode for deleting SO10 standard text.
Follow step-by-step and take actions listed to delete standard text using SE78 SAP transaction
Launch SAP SE78 Administration of Form Graphics transaction screen.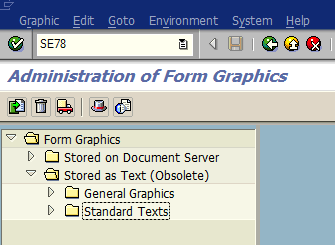 Under Form Graphichs, drill down following the path:
Form Graphichs > Stored as Text (Obsolete) > Standard Texts > ST Standard Text
Double click on ST Standard Text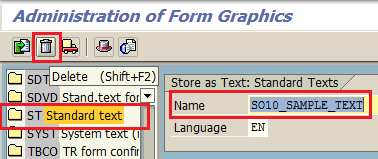 Enter the name of the SO10 standard text object you want to delete in Name input area. Then provide the language right under the name textbox.
Press Delete icon on top menu for completing deletion of SO10 standard text within SE78 transaction.