Free Download Internet Explorer 9 RC - IE9 RC Download
Microsoft released Internet Explorer 9 RC ersion download for Windows 7 users. Users can find free download Internet Explorer 9 RC links for their computers.


Windows users can download Internet Explorer 9 RC from Microsoft Windows portal Internet Explorer pages
I download Internet Explorer 9 RC for Windows 7 Ultimate Edition operating system with 64-bit edition. The download size of the Microsoft Internet Explorer 9 Setup utility IE9-Windows7-x64-enu.exe is about 36.1 MB for English language.

Internet Explorer 9 installation is straight forward but might require some of the software applications to be closed during the installation process. After you save your work, you can let the Internet Explorer 9 setup process to close blocking applications for you.
For more information, please check how to install Internet Explorer 9 link.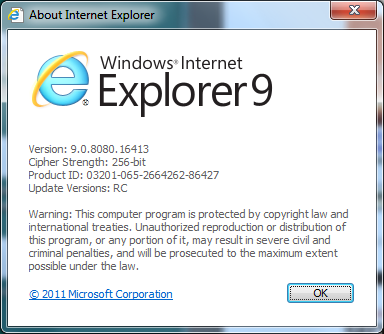 Windows 7 users who want to know the new features with Internet Explorer 9 web browser can visit the IE guide What is New in Internet Explorer 9 - IE9 Features.
Download Internet Explorer 9 RC in Your Language
Windows users can download Internet Explorer 9 RC in their languages. A great many of languages exist in free download IE9 RC download links.
The available Internet Explorer languages include :
English, French, German, Japanese, Portuguese (Brazil, Portugal), Russian, Spanish,
Arabic, Bulgarian, Chinese (Hong Kong SAR, Simplified, Traditional), Croatian, Czech, Danish, Dutch, Estonian, Finnish, Greek, Hebrew, Hungarian, Italian, Korean, Latvian, Lithuanian, Norwegian, Polish, Romanian, Serbian, Slovak, Slovenian, Swedish, Thai, Turkish, Ukrainian, Catalan, Hindi, Indonesian, Vietnamese.

Other languages will soon be released for public free download with Internet Explorer 9 Release Candidate Windows 7 Language Interface Packs (LIPs).

For Windows users who want to remove Internet Explorer 9, please check the tutorial How to Uninstall Internet Explorer 9 - Microsoft IE9 Removal.