SAP Screen Personas Mass Flavor Maintenance for Transport Request
SAP Screen Personas administrator or SAP Personas developer can transport multiple flavors using mass maintenance tool for Personas flavors instead of adding each flavor to an existing transport request one by one.
If you are a Personas flavor editor and developing an SAP HTML GUI application formed of many SAP Personas flavors, you will require to export and also transport multiple flavors in one transport request frequently.
It is possible to mass transport of Personas flavors using SAP Screen Personas Flavor Maintenance - Mass Maintenance transaction within Personas 3.0 Administration transaction.
Please note that following mass maintenance of Personas flavors is valid for SAP Screen Personas 3.0
To start mass maintenance tool for SAP Personas flavors, follow below steps in SAP GUI.
Launch Personas Screen Administation transaction using SAP tcode /PERSONAS/ADMIN
Using top menu select menu option Goto > Flavor Maintenance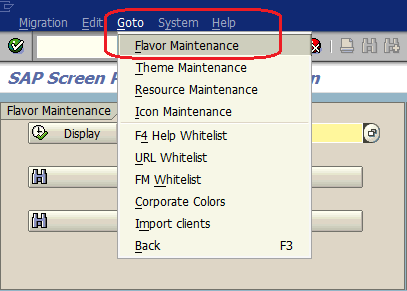 Perhaps you will notice that the SAP Personas administration screen provides also a flavor maintenance (seen in the background) but this is based on single flavor.
Since we deal with transporting multiple Personas flavors into a single transport request, we need a mass maintenance tool for SAP Screen Personas flavors.
SAP Screen Personas Flavor Maintenance screen provides a huge list of criteria for Personas administrators to filter among available Personas flavors to maintain.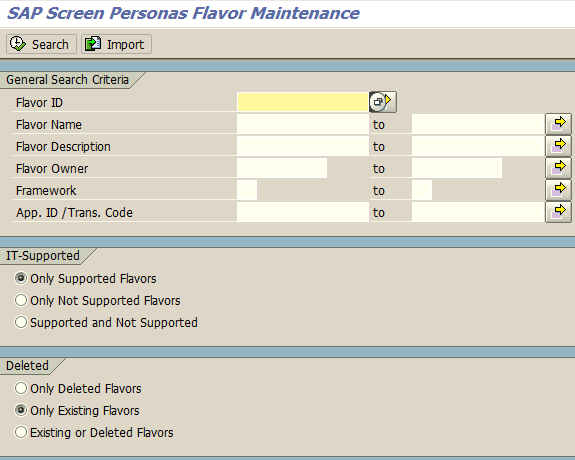 When Mass Maintenance screen is displayed with a list of filtered SAP Screen Personas flavors, select target Personas flavors by highlighting them from the list.
On this Mass Maintenance table view, SAP Personas administrator can select multiple flavors.
After administrator completes selecting Personas flavors, press Transport button to add all selected flavors into a single SAP transport request.