Read Registry Data in ABAP Code using Class Methods
To read Windows registry key values, SAP ABAP programmers can use build-in ABAP class method cl_gui_frontend_services=>registry_get_value. In this ABAP tutorial, I want to show a demo code where list separator character is fetched from Windows Registry by ABAP code with mentioned ABAP class method cl_gui_frontend_services=>registry_get_value
For example, assume that ABAP developer requires to read sList key value for list separator character which is stored under following registry path:
\HKEY_CURRENT_USER\Control Panel\International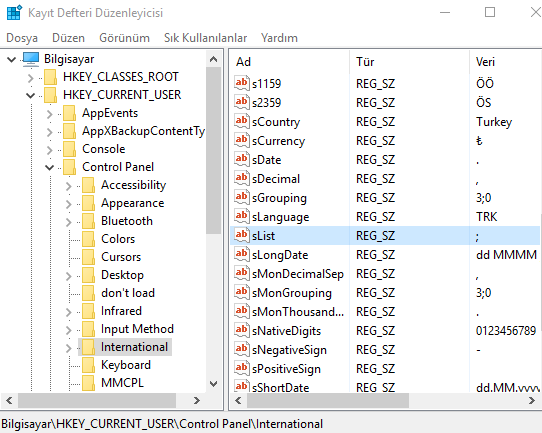 In order to read registry key sList from Windows Registry, ABAP programmer can use cl_gui_frontend_services=>registry_get_value class method by configuring the input parameters as in following code block.
After class method cl_gui_frontend_services=>registry_get_value is called, registry value is returned in local variable lv_seperator which is declared in-line and has string data type.
Just to note, ABAP programmer can read Windows registry sDecimal key value and sThousand key value for decimal separator and thousand separator characters using above static class method.