Invoice Split due to Manual Invoice Maintenance Check on Sales Order
Manual invoice maintenance check on SAP sales order item Billing tab causes invoice split on SAP systems which causes related item to be placed into a different sales billing document from others with "Manual invoice maintenance" values are empty.
Recently in my productive SAP system I experienced following invoice split problem. There was a sales order with a long list of items in it. And one of the items in the sales order document was printed in a seperate invoice than the remaining order items. This invoice split was not expected by the business users.
With a short investigation and comparing sales order items, I see that "Manual invoice maintenance" checkbox seen with label SubsInvProcess is causing the sales order to be splitted into different invoices and being printed in seperate invoices dur to this invoice split.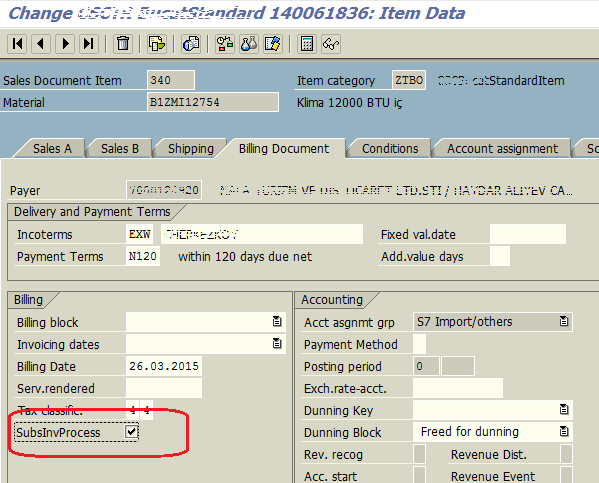 Manual invoice maintenance indicates whether the invoices for manual post processing should be printed out or not.
The system proposes the value from the customer master record. You can change the indicator manually in the sales document.
By clearing SubsInvProcess on Billing tab of sales order item will lead combining of items in one invoice instead of causing invoice split in SAP system sales processes.