SAP Selection-Screen Parameters - Add Parameter Text or Label
When an ABAP developer creates an SAP selection screen where a set of user parameters are placed, a similar view shown in below screenshot is created first.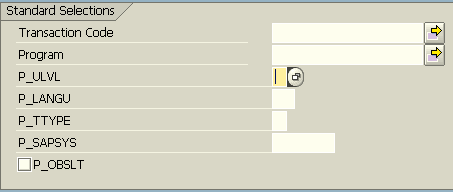 As you see, the selection-screen parameter labels or selection-screen parameter text are meaningless like P_LANGU, P_SAPSYS, etc which are ABAP variable names of the selection-screen parameters.

Of course this view is not a user-friendly GUI. In order to alter this GUI, an ABAP developer should first define selection-screen parameter labels or selection-screen parameters text.

In order to define a label or text for a ABAP selection-screen parameter :

Follow the following menu selection on the top menu of ABAP Editor when you are in the related ABAP report.
Goto > Text Elements > Selection Texts


When the ABAP Text Elements : Change Selection Texts screen is displayed, you will see that the text of parameters are not defined in "Selection texts" tab.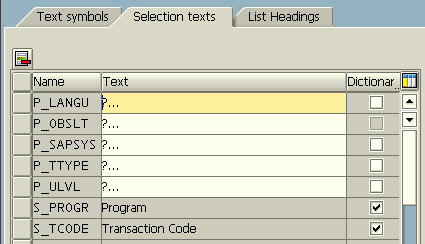 Enter definitive parameter names for selection-parameters in the "Selection Texts" tab for each parameter missing text information.
Later, save and activate ABAP Text elements.
After activation, you will see that selection-screen parameters are now more user-friendly with parameter names or parameter texts.