Free Mind Mapping Apps for Windows Phone 8
Free mind mapping apps will help you to benefit from mind map software when you are mobile by downloading mind mapping apps to your Windows Phone 8.
Here is a short list of mind mapping applications I could find on Windows Store and I downloaded and installed on my Nokia Lumia 920 Windows Phone 8.
FTS Mind
InvulgoMindMapper
Mapidea
MindV

InvulgoMindMapper Mind Mapping App
I download InvulgoMindMapper mind mapping software from Windows Store for my Windows 8 phone and I found it very handy with other mind map applications I tried on my smartphone. You can customize all layout features like background color for your mind map, text color, color of idea boxes, font colors you note your ideas after brain storming, etc.
I think it is important to place the ideas on the mind map any where you want after you add them. And InvulgoMindMapper mind map tool supports moving ideas on the mindmap.
Mind mapping tool users can also upload their mind maps to DropBox or FreeMind for sharing with others.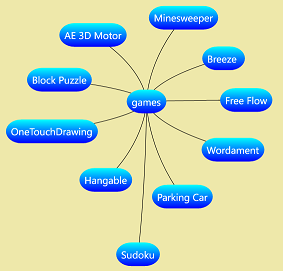 InvulgoMindMapper free mind mapping software for Windows Phone 8
Please visit Windows Store to download and get official detailed information about InvulgoMindMapper mind mapping software.
FTS Mind free Mind Mapping Tool
FTS Mind is an other mind mapping software which enables you map your ideas on any topic easily and review your ideas visually. FtsMind also supports Sky Drive or Dropbox export which let's you transfer and store your mind map in cloud so enables online reach to your mind map any time from any device connected to internet.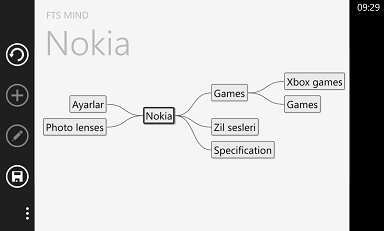 FTS Mind mind mapping tool for Windows 8 Phones
You can find detailed information about FtsMind mind mapping application at Microsoft's Windows Store web portal.
Mapidea Brain Storming app
Mapidea is an other free mind mapping software and brainstorm app that you can download and install on your Windows Phone 8 devices. Actually I found it difficult to navigate on the mind map after you add a few ideas so could not test it more because I was looking for a more user-friendly mind map app for my Windows 8 phone Nokia Lumia 920.
You can visit Windows Store to download Mapidea
MindV
You can install MindV mind map software from Windows Store for your Windows Phone 8. You will also find more information about this Windows Phone app at given reference.