Microsoft Project 2010 Team Planner
The Team Planner is a new project tool which is introduced to project managers with the new Microsoft Project 2010 version.
Team planner enables project managers to manage team members, their tasks and assign tasks from one team member to another.

Project managers that have not yet download Microsoft Project 2010, can download Microsoft Project 2010 free trial.

Project managers using Project Professional 2010 can use the team planner tool.
The Team Planner is a resource scheduling view.
Project managers can interact with the project schedule using the Team Planner view.

Using new project management tool, Team Planner view project managers can see the tasks that the project team members are working on at a glance.
Team Planner also enables project managers to move tasks from one team member to another member.
Managers can see unassigned tasks and on the Team Planner view they can assign unassigned tasks to team members.
The overloaded team members can be seen explicitly on the team planner view.
The overcapacities on team members can be distributed by drag-drop easily and the over-capacity members will return to normal.
Project managers can see task names, descriptions, resource names in this new project management tool which comes with Microsoft Project 2010.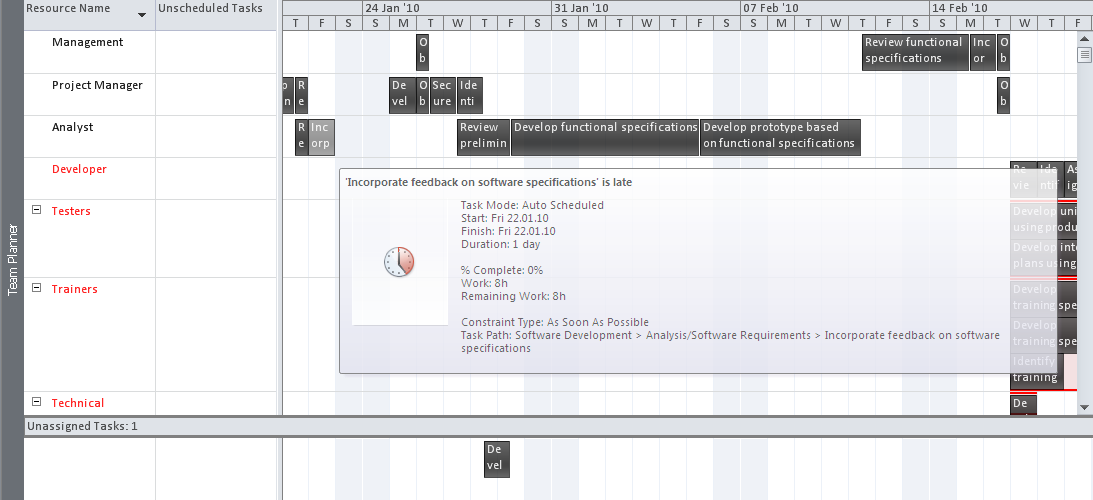 Here is the team planner view of the sample software development project downloaded from Microsoft Project 2010 templates web site.