How to Activate Microsoft Office 2013
Activating Microsoft Office 2013 means registering the installed software with a valid product key. This guide shows how to activate Microsoft Office 2013 software with screenshots using the most recent MS Office release Office 2013 Preview. To activate Microsoft Office will prevent notifications that installed Office 2013 product is unlicensed while you're working with your Office applications.
If you are using one of Microsoft Office 2013 Preview software, you were given your evaluation software product key during download process. You will be using this evaluation product key to activate Microsoft Office 2013 Preview trial edition.
It is better you activate Microsoft Office 2013 product (Microsoft Excel 2013, Microsoft Visio 2013, Microsoft Project 2013, etc) right after you complete Office 2013 setup. This will help you avoid boring notifications that your Office 2013 setup is unlicensed.
Open one of Microsoft Office 2013 applications like MS Office 2013 Excel or Office 2013 Word. You will see the main menu on the side bar as seen in below screenshot. Click on Account menu option from menu options.

When the Account screen is displayed, you will see your account details on the left side of the main screen. On this Office 2013 screen region, the current user's account details like user information, office background selection and active connected services are listed. These connected services are like SkyDrive, Office365 SharePoint, Windows Live Connect or Office Store.
What is important for Microsoft Office 2013 activation is displayed on the right side of the Account screen at Product Information region.

If installed Microsoft Office 2013 software is not activated yet using a valid Office 2013 product key, you will see a warning message on a yellow background to take your notice. The message "Activation required" is warning Office user that the Office 2013 activation is not done. "This product is unlicensed." informs current user that the installed Microsoft Office software (Excel, Word, PowerPoint, Visio or Project 2013) is not licensed and not activated successfully.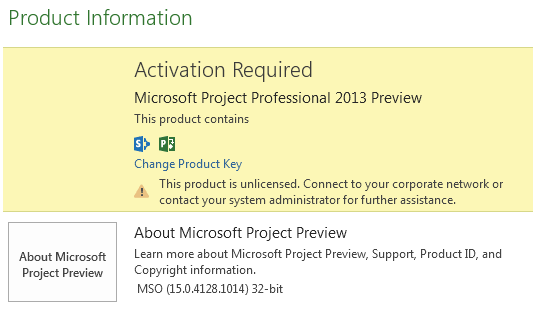 Click on "Change Product Key".
Enter a valid Microsoft Office 2013 product key. Prodiving Office 2013 product key for installed Office application and marking the checkbox "Attempt to automatically activate my product online." will let Microsoft Office 2013 to activate your software automatically at one with the product key supplied.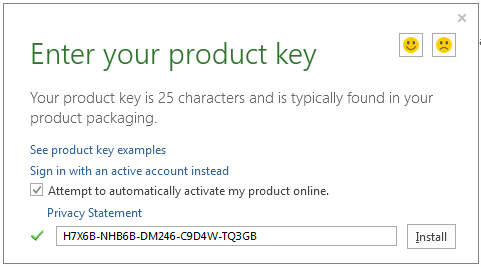 When you press Install button, your Microsoft Office 2013 account will be updated with the product key you entered.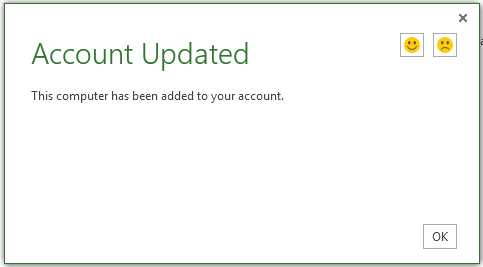 And the Product Information section will be now informing the Office user that Product Activated successfully.