Windows 7 Touch Screen Software and Compatible Applications
If you are a Windows 7 user who owns a touch screen monitor and wants to use software for touch screen using Windows 7 multi-touch screen features, I'm sure you are looking Windows 7 software for touch screen. Windows 7 is the first operating system that supports fully touch screen monitors. There are also software for Windows 7 multi-touch properties. Here in this guide I wish to share a list of Windows 7 touch screen software you can find in the software market and download free or buy from software vendors.

Corel is one of the biggest software development companies creating software applications to improve productivity and life quality. Corel is now building touch screen software for Windows 7. In this multi touch screen software list, Windows 7 users will find multi-touch applications from Corel corporeation.

Corel Digital Studio 2010
Corel Digital Studio 2010 is a digital media software which enables you organize, display and play your digital media using your fingertips.
Windows 7 users can organize their photos, videos and play music files using multi-touch software Digital Studio.
You can download free trial Corel Digital Studio 2010 after filling a short registration form here.
Although it is not a free touch screen software for download and use, you can use it free during the evaluation period.


Corel Paint it! touch
Windows 7 users can now draw pictures using their fingers and paint pictures using fingertips on thier multi touch screen monitors.
"Paint it! touch" touch screen software will be loved by small kids who loves to spend time in front of computer screens.
With multi touch experience, drawing and painting will be very enjoyable for them.
You can buy Corel Paint it! touch software for $39.99. Please refer to product page for more detail on this multi-touch application.
Unfortunately I could not find free download link for Paint it! software for touch screen.

If you think to buy a Windows 7 touch screen PC computer, note that some of the Fujitsu touch screen PCs and NEC touchscreen PCs have built-in Paint it! touch screen software.


WinDVD Pro 2010
Another touch screen software from Corel is WinDVD Pro 2010.
WinDVD Pro 2010 is a DVD and Blue-ray player designed and optimized especially for Windows 7 WinDVD Pro 2010 supports Windows 7 features like exciting Windows Touch, Taskbar and Jumplists. WinDVD Pro 2010 enables Windows 7 users to manage all WinDVD controls with a finger touch by using the Windows touch feature of Win7. You can control playback, scene selections and browse media library with Windows 7 touch.
The full price of this Windows touch software is $59.99.
You can find more details about this excellent touchscreen software build for Windows 7 at Corel Product page.
There is also try free WinDVD touch screen software by downloading after filling this registration form.


Microsoft Touch Pack for Windows 7
Microsoft teams have build Microsoft Touch Pack for Windows 7, a pack of multi touch screen software and touch enabled applications to demonstrate the multi-touch features of Windows 7.
The Touch Pack for Windows 7 includes Microsoft Surface Globe, Microsoft Surface Collage, Microsoft Surface Lagoon, Microsoft Blackboard, Microsoft Rebound and Microsoft Garden Pond touch screen software.
Please refer to Win7 article Download Microsoft Touch Pack for Windows 7 for more details.
Do not forget, Microsoft Touch Pack for Windows 7 is one of the best free touch screen software you can find containing multi-touch games and multi-touch applications.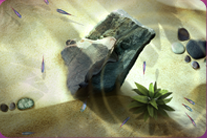 Roxio PhotoShow Touch for Windows 7
Roxio PhotoShow Touch for Windows 7 is a photo edit software designed for Windows 7 multi-touch PCs.
Of course, in order to fulfill your expectations from Roxio PhotoShow Touch, you must have a multi-touch computer running Windows 7 operating system.
With PhotoShow Touch, Windows 7 users can drag and drop, scroll, tap, swipe and pinch photos using their fingertips by a touch on the touchscreen monitor easily.
PhotoShow Touch adds music, captions, styles and animated stickers among hundreds of samples to photos and enables Win7 users personalize their photos.
It is also very simple to share your photos with your friends by posting to Facebook, Flickr and other popular online photo sharing web sites.
Roxio PhotoShow Touch for Windows 7 costs $49.98.
Please refer to official product page for Roxio PhotoShow touch screen software for Windows 7.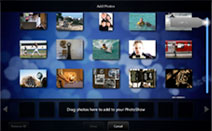 Snowflake Suite
The Snowflake Suite plug-in for Windows 7 behaves as an additional layer on top of Windows 7 OS in order to enrich multi-touch capabilities of your computer. The Snowflake Suite includes a SnowDocu game, an AirHockey game with 4 concurrent players, a slot machine game, puzzles, wong game, media players, etc. Also TouchEarth multi-touch software which is Google Earth with multitouch interface can be downloaded as a separate application. You can find more detailed information about the Snowflake multi-touch software at Snowflake Suite.
Snowflake Suite provides multitouch software solutions for Windows XP, Windows Vista, Windows 7, Windows 8, and for Mac Lion and Snow Leopard.