PhotoRec Free Digital SD Photo Recovery Program
In this short tutorial, I'll try to explain you how to use PhotoRec free digital SD photo recovery program and where you can download free photo recovery tool.
You will find this program SD photo recovery tool very helpful in case you want to recover accidentally deleted photos in your SD card, flash disk, usb drives, etc.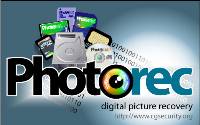 With the digital cameras, millions are using digital cameras to take photos.
One advantage of digital cameras is you can take a picture, see the digital image immediately and if you do not like the digital photo you have taken, you can erase or delete the digital photo with one click.
This function of the digital cameras makes it a cheap and easy to use photo solution for amateurs and for who likes to takes a lot of pictures.
Using a digital camera, you can also migrate the digital photo data to other digital platforms like computers, photo displayers, etc as digital image data.
One important point about digital photos, is you have take back-up your digital memories in order to keep them against an accidental delete or erase process.
If you delete a digital camera photo on your digital image storage device, let's say on your SD Card, you can recover those images by using an sd photo recovery tool or digital photo recovery software.
I download and used this free digital SD photo recovery software recently, and I'm very happy with the results. I'm going to try to give you information on how you can use this photo recovery tool in a tutorial format.

PhotoRec SD Photo Recovery Software
PhotoRec is an SD Card Photo Recovery tool. At least I used PhotoRec as an SD Photo Recovery tool for my deleted digital images.
PhotoRec is a free file data recovery software. I've downloaded many digital photo recovery software supplied for trial but I could not use none as a free photo data recovery solution.
So PhotoRec is unique among similar applications because it is free and open source. It is a multi-platform data recovery tool so that it can run successfully on Windows systems as well as Linux, Mac OS and many other operating systems.

PhotoRec SD card photo recovery tool is able to run successfully on many other media types like harddisks, CDRom, and removable devices like memory card, flash disk, memory stick, SD card, USB memory drives, etc.

You can download PhotoRec digital image recovery tool from PhotoRec Download approtiate for your operating system.

Step by Step Digital SD Photo Recovery
Place your SD card on the SD Card reader or if your are using an USB card adaptor place the SD Card in it.
One advantage of PhotoRec it can detect SD Card Readers. You do not have to map your SD Card as a new drive.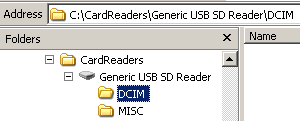 Since I'm using a Windows XP edition I'm going to run the photorec_win.exe by a double click.
Select the Generic USB SD Reader (or where is your lost photo data resides) by up-down arrow keys and press Enter to proceed. You can quit the process by pressing "Q" in the data recovery program.

In the next screen, you will select the partition table type.

Select the partition you want to process digital image recovery.


Next screen will ask you about the file system type.



Last screen will ask you where to store the recovered photo files. You can continue by selecting the default value by pressing "Y".


After this step, the photo recovery taks is being executed by the PhotoRex software. And recovered images, movie files, etc all files are listed according to their types as shown in the below screenshot.


After the recovery process is completed you can close the program by pressing "Q" on all screen to quit and close the application.

The recovered photo files are stored in the folders named in the format "recup_dir.n" created for this task.