How to Open VHD File and Mount VHD File without using Virtual PC
Microsoft Virtual PC (VPC) is a great virtualization tool where IT professionals like administrators, developers, and testers are using a lot.
It is easy to build a virtual pc on your computer without affecting your host system.
On the other hand virtual pc users frequently require to mount vhd file while they used as a virtual disk of your virtual operating system hard disk.
In this short step-by-step tutorial, I will try to demonstrate how to open vhd file and mount vhd file using free tool Gizmo

First let's start by talking about "What is VHD file format"
VHD or Virtual Hard Disk (VHD) Image Format Specification is created and developed by Microsoft for specifying a virtual machine hard disk. Using this VHD file format specification, third party software producers can build virtualization tools reading and writing virtual machine hard disk.

Now let's continue to mount a VHD file using Gizmo tool after a short detailed information about VHD file format.
First of all, you can download free vhd mounting tool from Arainia Solutions web site Gizmo Central v2.7 download pages.
After you complete download vhd mount tool, where the total download size is approximately 8 MB, run the setup.
Note that before using Gizmo Central mount vhd tool, you should restart your computer.
This requirement for reboot is the only disadvantage of using Gizmo Central as a solution to open vhd files.

After you restart your computer, Gizmo Manager toolbar will place itself on the system tray.
Open the Gizmo Manager tool, and select the Virtual Drives from the left hand side panel in the Gizmo Manager tool.

Click on an empty Virtual Drive record in the Virtual Drives tab. Open the context menu on the empty slot and select "Mount Image" menu item to open vhd file.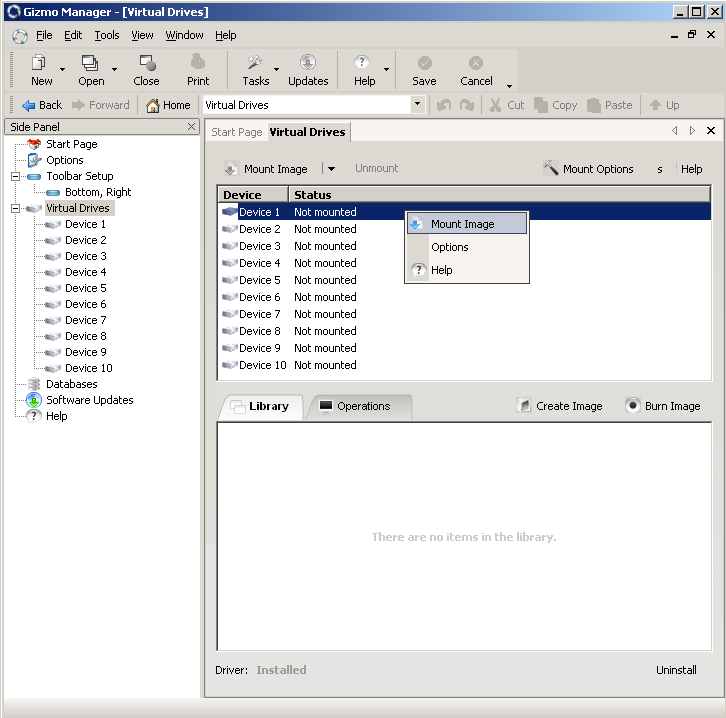 When the Mount Image dialog wizard is displayed, you can select details like virtual disk vhd file path that you want to mount as a disk drive to your computer disk management.
You can also assign a desired letter for the mounted disk image of the related virtual vhd file.
If you want to map disk as a drive everytime you restart your computer, you can automate mounting or openning vhd file by checking the option "Remount image when Windows starts up".
You have also the option to open vhd file in read-only mode which prevents an accidental loss of data in the virtual vhd disk file.
When you select "Mount image as read-only", you will avoid file deletion in the Virtual PC vhd virtual disk.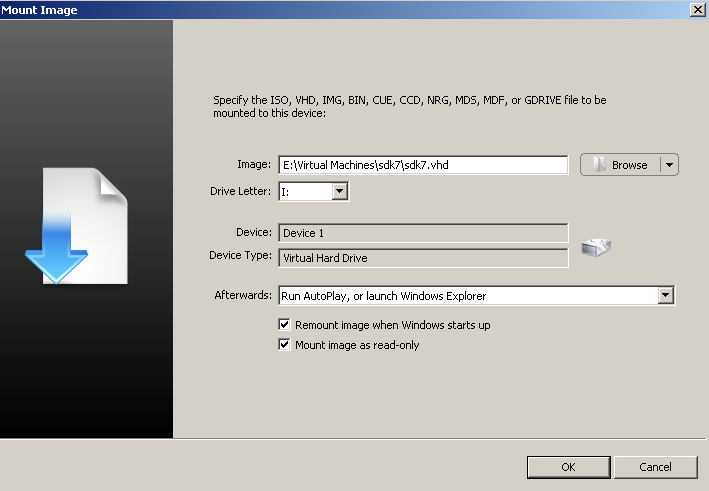 After you press the OK button the virtual disk mount operation is completed and Gizmo will open Windows Explorer.
On the Windows Explorer, the contents of the virtual disk vhd file contents are displayed.
The virtual disk is mapped using the letter selected as a new disk drive.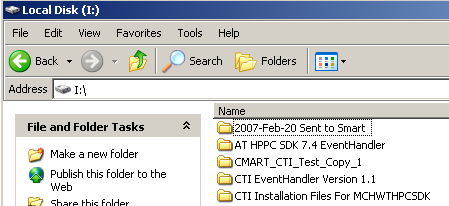 As you see, to mount vhd file and open vhd file with contents readable and even editable is so simple with Gizmo Central.