Free Screen Recorder Tool Download for Windows
Recently I created an application by modifying an ABAP transaction using SAP Screen Personas and wanted to show how the new screen can be used for demo purposes as well as a tutorial like in a training session. Since the target people that I want to share this know-how are from different part of the world, I though using a screen recorder tool will be best for my requirement's solution. Using a screen recorder software, I thought I could capture my actions on the screen and add audio as well beside the movements of mouse on the screen and save it as a small video file.
Although I found very useful the Microsoft's Problem Steps Recorder tool application which is introduced with Windows 7, since it does not create a video file I could not use it for this case.
I searched on the web for a free screen recorder application that can create a video file at the end with audio support. At last I found free ScreenRecorder which referred as a screen-to-video capture program introduced for Windows users in an article at Microsoft TechNet. The free screen recorder software installer file is named as UtilityOnlineMarch092009_03.exe and around 20 MB in size.

ScreenRecorder application is free to download and easy to use. This screen to video capture tool supports audio recording as well. The tool has a very simple user interface so that the Windows user who wants to create a tutorial video or demo showcase can easily create what he or she wants even at the first usage.
Besides this screen recorder tool's free download availability and simple UI which makes it easy to use, an other important feature is the output video file size is relatively small.
Start Screen Recorder tool.
You can either choose "full screen" or a specific windows screen to capture as a video from the drop down list showing all available application windows running on the computer.
Before starting the application to record screen, you can also add audio and prevent border flashing using the check boxes on the right side of the screen recorder tool GUI.

After pressing OK, a second UI screen will be displayed where you can set the video file name and the file folder where the video file will be saved. To map a folder for recorded movie file which is in .wmv format, click on the area with text "Please click here to specify filename".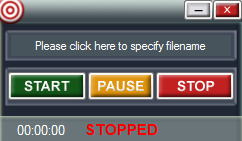 As seen in above screenshot, the Windows user can control when to start screen capturing and when to stop recording using the buttons on the screen. The screen recorder tool user can also pause recording, then continue screen capturing to video using the start button.