Guide for Selecting Best Ergonomic Keyboard
This guide for selecting best ergonomic keyboard is prepared for people using computer for long durations. If you are one of them, then you must have sound knowledge about ergonomic keyboards, as it offers a lot of health benefits. Yes, if you don't use an ergonomic keyboard, then chances are that you will have to deal with Repetitive Motion Injury (RMI) i.e. Carpal tunnel syndrome. This only implies that you will continue to sit and maintain high-stress postures such as extension, pronation and deviation, while working on your computer, which will only aggravate your problem. So, if you want to deal with Carpal tunnel syndrome head on and wish to invest in an ergonomic keyboard, then read on to find more about the advantages of using ergonomic keyboards, its various features and some useful tips on finding the best ergonomic keyboard for yourself.
Advantages of Ergonomic Keyboards
A good ergonomic keyboard will allow you to sit and operate your computer in a comfortable position such as using biceps to bring your hands forward and up and relaxed arms. Some of the benefits of using an ergonomic keyboard are:
It will ease the tension on your shoulders and neck area allowing you to type, scroll and work on your computer easily.
Helps in avoiding problems emerging owing the overuse of wrist and elbow.
Companies can help their employees get rid of carpal tunnel syndrome and hence escape the consequences that arise due to loss of work.
Promotes a healthy posture
Allow you to keep your wrists straight while typing.
Is extra durable and reliable when compared to the conventional keyboards.
You won't have to incur any addition expense in terms of future keyboard purchase.
Ergonomic Keyboard Features
A well-designed ergonomic keyboard will have a smaller footprint and features a design that allows you to keep the mouse closer to the neutral position of your body. This only helps in minimizing stress and unnecessary stretching of the body. It also assists in reducing shoulder as well as writs strain and pain. Appropriately designed ergonomic keyboards will allow you to keep your wrist straight and minimize the stretching of mouse. It features mechanical Keyswitches and helps in reducing unnecessary hand travel. It comes with an embedded numeric keypad in which all the keys are placed or rather arranged in a comfortable and logical layout.
Tips for Selecting Best Ergonomic Keyboard
Once you have decided to invest in a high-quality, durable and affordable ergonomic keyboard, the very next question that will occur to your mind is: How can I find the best ergonomic keyboard? Well, in that case focus on buying an ergonomic keyboard that helps in improving both productivity as well as comfort. When it comes to designing an ergonomic keyboard, many keyboard manufacturing companies put a lot of emphasis on designing a product that offers a great deal of comfort. While that is certainly good from ergonomic point of view, the only sad part is that this approach minimizes productivity level in terms of accuracy and speed of typing or editing. In order to get rid of this problem, you must pay heed to the following tips and select the best ergonomic keyboard for you and your system.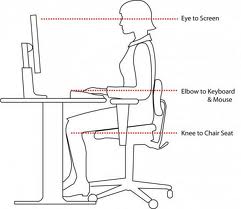 Neutral Posture
Pick a keyboard that allows you to maintain a neutral posture while working on your personal computer. Therefore, check whether the keyboard you are planning to invest in allows you to avoid problems such as constricted joints and reduced blood flow levels. You shouldn't experience any type of pressure or friction while typing or working on your machine. In a nutshell, maintaining neutral posture is nothing but keeping your forearms and thighs parallel to the floor. In addition to this, your wrists should be straight and not bent inwards or upwards.
Keep your Forearms Relaxed
One of the most important features of an ergonomically designed keyboard is that is allows you to keep your forearms in a relaxed position. When your muscles get tensed, you don't experience good blood flow levels and consequently your productivity level also increases.
Relaxed Shoulders and Neck
Don't forget the strain you experience in your neck and shoulder area while using a conventional keyboard. At the time of selecting an ergonomic keyboard, make sure that you are opting for a keyboard that comes with integrated and padded palm supports. When you give optimal rest to your palms, you strain your shoulder and neck muscles a little less so that you can continue to work in a more relaxed manner. In fact, the padded palm support is ideal for maintaining a good wrist posture and good blood flow levels.
You can also pick ergonomic keyboards that come with a gap in the middle so that you are able to keep your arms straight and experience comfort while typing, editing or simply surfing through your computer. If you find that the keyboard is divided into two different alphanumeric sections and is separated by a gap, then choose that particular ergonomic keyboard over others.
Reach the Mouse Easily
Another feature that you must pay attention to while selecting an ergonomic keyboard is the mouse that comes along with the keyboard. Mouse can cause a lot of stress, and therefore when you are planning to buy an ergonomic keyboard then opt for one that allows you to get to the mouse easily. Pick a keyboard that comes with an embedded numeric keypad section (the type that is commonly found on laptops).
Avoid Repetition, Vibration and Force
At the time of using computer, especially for typing, one tends to put a lot of force while pressing the keys. This causes some amount of vibration and impacts the finger of the user as well. Therefore, select an ergonomic keyboard where you don't have to put a lot of force while typing or editing. An advanced and ergonomically designed keyboard will allow you to get your work done faster. When you make less repetitions and movements and use keyboards that come with automated keys, you will be able to avoid unnecessary strain, vibration and force.
Adapt Quickly
If you are facing difficulty in adapting or adjusting with your newly bought ergonomic keyboard, then it is a complete waste of money. Your ergonomic keyboard should be designed in a manner so that you don't encounter adaptation issues as this will directly impact your performance, speed and accuracy of typing and working on your computer. It will also help you avoid strain and wrist pain.
Best Ergonomic Keyboards
Your ergonomic keyboard should be simple to use and adjust to. While design and color are a matter of personal choice and preference, the focus should be on acquiring a keyboard that boosts productivity and offer optimal comfort. While there are numerous brands and options available in the market, you can consider purchasing any of the following ergonomic keyboards to meet the above mentioned requirements.
1. Kinesis Freestyle VIP
This keyboard has been split in half and allows you to adjust the horizontal plane angle of the keyboard to just about any degree where you experience extreme comfort while carrying out typing or editing related tasks. You can tilt the keypad of the keyboard according to your own preference.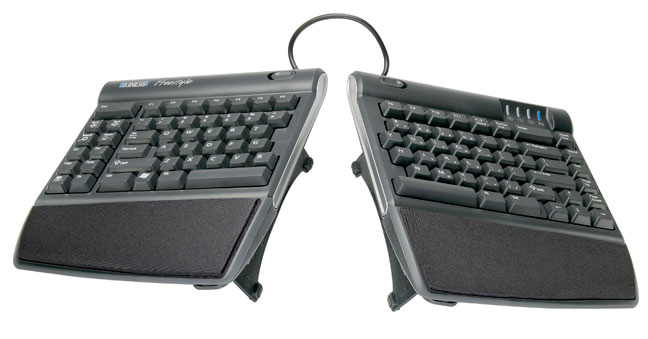 2. Adesso Tru-Form
If you are looking for an affordable ergonomic keyboard, then Adesso Tru-Form is certainly a great option. It allows you to sit in a natural typing position as it feature a split and contour. It also comes with an additional trackpad positioned just beneath the space bars. What this essentially does is that you won't have to use your mouse very often. A great keyboard that help in minimizing arm, wrist, shoulder and neck strain and pain.
3. Kinesis Maxim
This particular product can be utilized as a standard keyboard or can also be configured into a position that allows you to maintain a good or relaxed posture while using it. If you work and operate in a little space, then this keyboard is ideal for you.
4. Goldtouch Go
If you are one of the users who are always on the move, then the Goldtouch Go is certainly meant for you. It features a small footprint with tiny keys. It can be easily splayed and tilted to adjust to a level where you are willing to work on your computer and don't face comfort related issues.
5. SafeType
This is a complete 3-D keyboard that allows you to eliminate unnecessary extension, pronation and deviation. A lot of research and analysis has gone into creating this ergonomic keyboard, which creates a comfortable typing position and reduce wrist and arm strain and pain. Instead of shifting the stress area from one place to another, this particular keyboard ensures that you don't experience discomfort in any other areas such as elbows, neck and shoulders as well.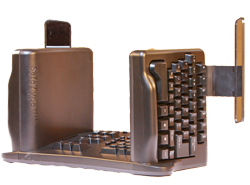 To sum up, ergonomics should be a vital point when it comes to investing in a keyboard. Remember, you cannot afford to compromise on your health in order to meet your typing, editing or any other computer related tasks. Therefore, it is better you do your research properly and buy ergonomic keyboard that allows you to work comfortably and avoid strain, pain and unnecessary stretching under all conditions.