Programming Windows Phone 7 : Free Download eBook from Microsoft Press
Programming Windows Phone 7 is a free ebook written by Charles Petzold and the ebook is about 1000 page size.
Microsoft Press has just released Programming Windows Phone 7 on the 3rd of November this year 2010.

Windows 7 users can download Programming Windows Phone 7 ebook for free from here.
The download pdf file is about 13.1 MB and the name of the download file is Microsoft_Press_ebook_Programming_Windows_Phone_7_PDF.pdf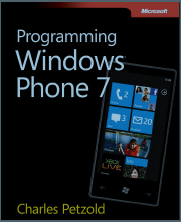 Windows Phone 7 programmers can develop their first applications using step by step examples from the Windows Phone 7 ebook from Microsoft Press author Charles Petzold.
This book is announced as a gift from Microsoft Windows Phone 7 development team and from the Microsoft Press to the Windows Phone 7 developers community.

Windows Phone 7 developers should download Windows Phone Developers Tools from Microsoft.
Windows Phone Developers Tools includes Visual Studio 2010 Express for Windows Phone, XNA Game Studio 4.0, on-screen Windows Phone Emulator for Windows Phone programmers.
Installing Windows Phone Developers Tools will enable developers to use these development tools during Windows Phone 7 development period.

For more information about Windows Phone 7, for free downloads, etc. please visit Microsoft Developer Platform.